The New Search Engine in Town
Google search has always been the place to go when looking for something online. For the last 20+ years, Google has reigned supreme. Need to buy online sneakers? Google it. Need to shop for mother's day? Google it. Google has basically become a verb in our language. You need to find something? You GOOGLE IT. Reported by Statista Research Department as of July 2022, Google currently holds 83% of the Global Search Engine Market. If I had to think of a company that is in essence the "internet", I would have to say it's Google. It has been an incredibly powerful tool that truly revolutionized the world. Shout out to Sergy Brin & Larry Page, we appreciate you!!
But now we find ourselves evolving and growing our search habits online. Going beyond just text searches with lists of website results. This brings me to the main point of today, PIZZA!! Ok, I know you are asking yourself what does Pizza have to do with online search?! Just hear me out.
I'm a Jersey boy, born and raised 30 minutes West of Manhattan. I've had the luxury and pleasure of always being able to enjoy well made pizza. During my 10 year run living in Manhattan, I was fortunate to meet and marry the love of my life. She happened to be 30 min from Manhattan too, but in the opposite direction from where I grew up. A LONG ISLAND GIRL, lucky me 😊!
A few years after being married and having our first son, it was time to move out to the burbs to raise our family. The deliberation on where to move was swift and decisive. We were between Long Island or….. Long Island (Happy wife happy life I suppose??) We ended up landing in a nice town about 40min East of Manhattan.
After settling in and trying some of the pizza places in our town, I had the feeling that I wanted to explore more. I wanted to know THE BEST PIZZA PLACES in Long Island. To search for this, I started with the great Google. It drove me to many different text articles ranking pizza places in Long Island. This was great but I didn't want to read articles about it. I wanted some fun interactive videos to watch instead. To achieve my desired goal, I decided to type in the same text search across three different platforms. Youtube, Instagram, and TikTok. I typed in "Best Pizza in Long Island NY"
My first stop was Youtube. The results were kind of ok. Nothing special standing out. It was mostly just videos of Dave Portnoy from Barstool sports reviewing different individual pizza locations across Long Island. There was no definitive great video ranking and reviewing all the top pizza locations.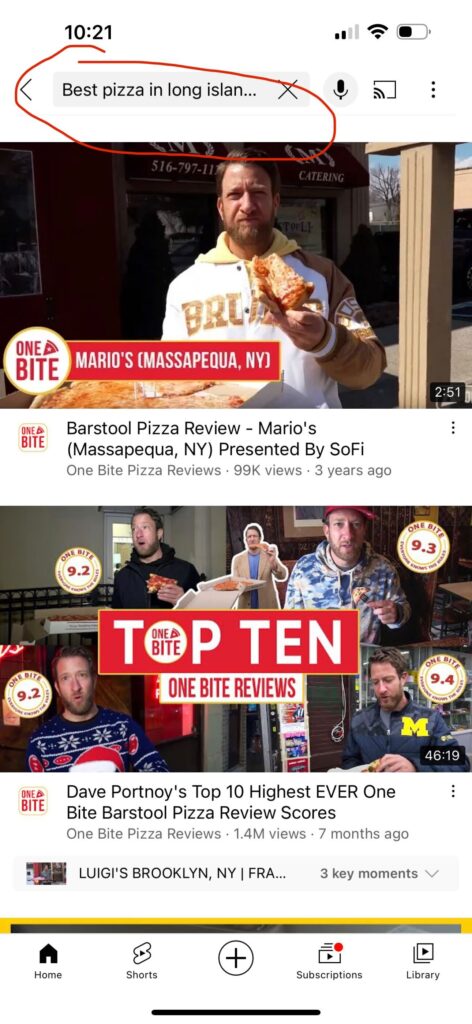 My next stop was Instagram. The results of my search were what I was expecting. ABSOLUTE TRASH! I can't wrap my head around why Zuckerberg has never solved search. Anytime I search for something on Instagram or Facebook it's like trying to find a needle in a haystack. My Instagram search results yielded a bunch of random pizza videos from all over the country (Yes Instagram, this video about a tiny pizza place in Florida was the exact video I was looking for). Zuck has these massive audiences on his platforms but has never been able to crack the code on search. Maybe I don't know enough about the intricate complexities of how search works, but I feel like a man with Zuck's resources should be able to solve this. Maybe less time on VR headsets building the metaverse and more time helping people find things they want to see on his apps? Just a suggestion.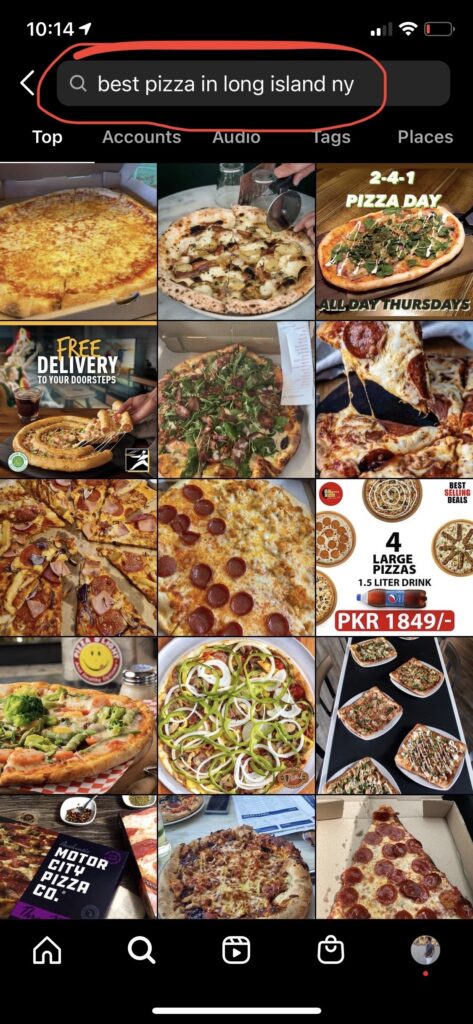 My final stop was with the new hot shot on the block, TikTok. I typed in the same search I did for both YouTube & Instagram. The search results got me EXACTLY WHAT I WAS LOOKING FOR! Literally pages of videos with thumbnail pictures and captions that matched what I wanted. All different types of people rating Long Island pizza places in simple to digest, fun short videos.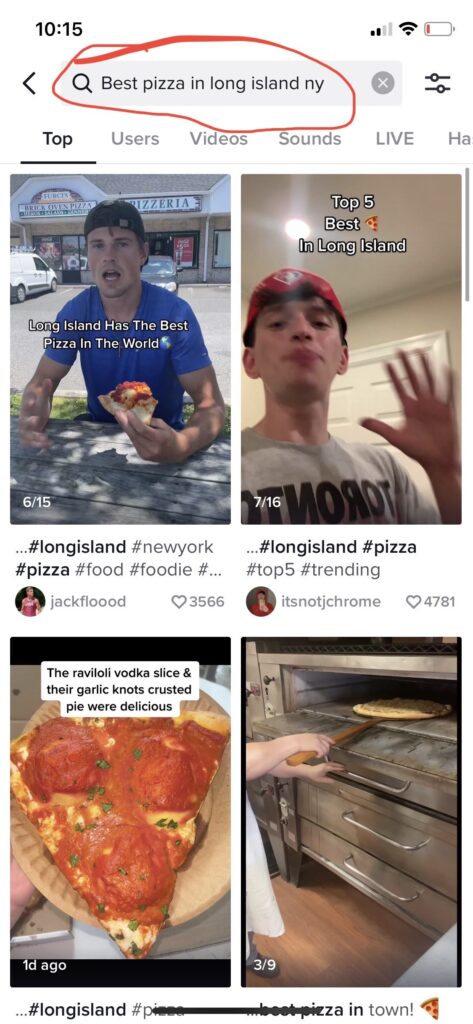 The crux of my experiment to find the best pizza spots in Long Island was to highlight the power of search on TikTok! Most people would view TikTok similar to how they view Instagram and other Social media platforms. But TikTok is more than that. It is truly making a name for itself as a bona fide place for Search! You can try this same experiment for yourself. Next time you want to find something on Instagram or even Google, try doing the exact same search in TikTok as well. See if it gets you the results you are looking for. I think you will be very pleasantly surprised!